About us
Seasoning Thai in Alexandria is happy to serve or neighbours delicious Thai and Asian cuisine, with a lot of traditional dishes, along with some creative surprises thrown in for good measure. You will find Fried Curry Puffs and Fish Cakes, along with BBQ, Stir Fry, Curry and more.
One of our most popular variety of selections on the menu at Seasoning Thai is our Wok Noodles, that have become a customer favourite. Another house specialty is our Salmon Slow Cooked in Green Curry. Whatever you order, it will soon be your new favourite because our passion for Thai cuisine shines through in every bite.
We invite you for lunch and dinner to dine in with us, or takeaway daily. dinner time delivery service is also available daily, so order online tonight for an exceptional Thai meal delivered right to your door.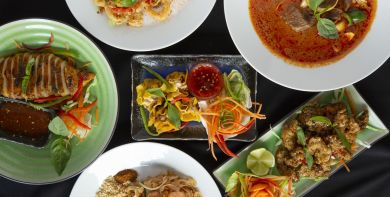 Reviews
Lauren
"Delicious as always!"
15/02/2020
Will
"I have been ordering from this restaurant many times, good customer service as well as good food, especially their crispy chicken so yummy!"
10/02/2020
Kellie
"Great food and fantastic customer service provided by the driver. Thanks for delivering my lunch on a very wet day in Sydney :)"
7/02/2020
Savvas
"The mixed entree was great. The mains (pork with veggies) was ok. Could have used more flavour. Otherwise ok."
27/01/2020